In another critical moment of failure of famed States Rights advocate Abraham Lincoln, his application to practice law at the federal level was dismissed, possibly due to finagling from Democratic opponents. The grounds for refusal were based in his fiery rhetoric and several challenges of his character, giving examples from his history of scatological humor and rough story telling. Lincoln could not deny these remarks and attempted a defense on First Amendment Free Speech, but he would soon give up as he fell into one of his "melancholies" (believed to be what modern psychologists would call clinical depression).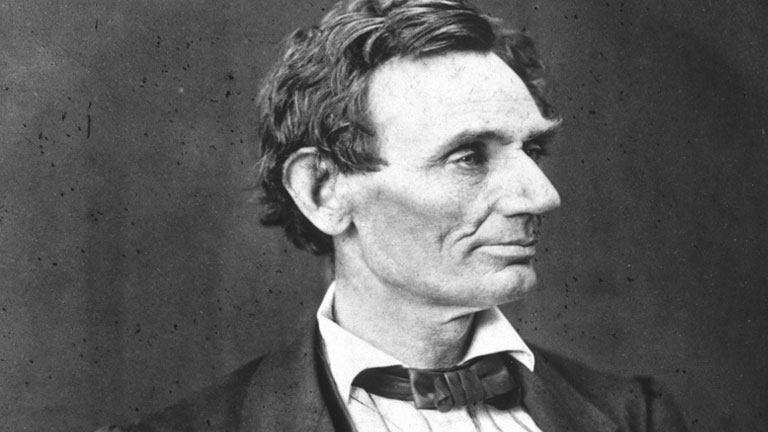 Lincoln's life had been fraught with hardships. Born in a one-room log cabin in Kentucky in 1809, young Lincoln was the son of Thomas Lincoln, who had become a wealthy and respectable man in the real estate business until he was wiped out in 1816 due to court cases over a faulty title. They moved to Indiana, a state where slavery was banned, and tragedy struck again as milk sickness (tremetol poisoning) took Lincoln's mother. Frontier life was hard, and the Lincolns moved westward again to Illinois to a new homestead. Lincoln left home and worked on a river barge before returning and starting a store that would ultimately fail. After losing a political campaign in 1832 and serving as a captain in the Black Hawk War, Lincoln finally found his path as an orator and lawyer.
He was famously self-educated, stating, "I studied with nobody." Instead, Lincoln read Blackstone's
Commentaries on the Laws of England
,
the Revised Statutes of Indiana
, the
Declaration of Independence
, and the
United States Constitution
while working as a secretary and surveyor in New Salem, Illinois. In 1834, along with his legal firm, he successfully began his career with the Illinois General Assembly as a Whig, following his hero Henry Clay, whose American System ideals he had begun to follow passionately. As a Whig, he would be firmly for investment in infrastructure to improve the nation, voting for projects such as the Illinois and Michigan Canal to connect Lake Michigan to the Mississippi River, roads, and railroads. With the Panic of 1837, however, the projects became bankrupt and Illinois was "littered with unfinished roads and partially dug canals" while its bonds tumbled in value. Lincoln suggested making up the money by Illinois purchasing federal land and selling it for a profit to private citizens, which the federal government refused. These disappointments by federalism would later impact his philosophy of state self-dependence.
Just as his career seemed to be on the proper path, Lincoln's subtly failing strength as a Whig became a stumbling block blamed for costing him the ability to argue cases in the US Circuit Court. His world collapsed as he settled into depression, even skipping offers by John Todd Stuart, a war buddy and benefactor who had inspired Lincoln to take up law, to meet his cousin Mary Todd. Eventually the two would meet and even marry, though they once broke their engagement due to second thoughts. During this time, Lincoln determined his ideas on independence and voluntary mass-agreements, like marriage, and he focused on local items for his legal practice and political career supporting federalism as less important.
In 1847, Lincoln advanced to the federal level as a representative in the US House. He argued bitterly against the Mexican-American War (disgusted with calls for the glories of war, which he called an "attractive rainbow, that rises in showers of blood") and reaffirmed his "free soil" stance on slavery saying, "the Congress of the United States has the power, under the constitution, to abolish slavery in the District of Columbia; but that power ought not to be exercised unless at the request of the people of said District" while still denouncing the evils of slave-holding. He was rewarded with his support during the election of Zachary Taylor with an offering to be governor of the new Oregon Territory, but Lincoln declined, wanting to stay close to his home of Illinois.
Lincoln spent the next decade working to support his home state, running unsuccessfully in the 1858 Senate campaign but becoming famous after his publication of speeches in the Douglas-Lincoln Debates, including "I believe this government can endure permanently half slave and half free. I do not expect the Union to be dissolved—I do not expect the house to fall—but I do expect it will be divided." He was proven wrong with the secession of the South after the narrow 1860 election of William H. Seward. During the Civil War, Lincoln argued for the rights of Southerners but agreed that a violation of the agreement of Union had taken place. He begrudgingly supported military action and rose significantly to the Illinois Senate, where his aid bills laid groundwork for military planning in decades to come.
After the war and the assassination of Seward, Lincoln became a powerful voice on Reconstruction and the necessity to return the South to normalcy, including the return of many rights. Gathering support from other wings of the Republicans and even former supporters of Douglas as well as revealing much of the corruption of victory-profiteers, Lincoln challenged and would eventually overthrow the Radical Republicans even though he had agreed with them on many anti-slavery issues before. Eventually, Lincoln's fair-mindedness and disgust of corruption would get him elected President of the United States in 1868. Due to his deteriorating health and the increasing mental illness of his wife, Lincoln would retire from politics at the end of his term, though he had already set a new precedent for the United States with regional interest and a successful plurality of political parties. Many scholars would say this disjointedness did much to limit federal power that could have alleviated social woes in the next century's Great Depression.
--
In reality, Lincoln successfully passed on to argue in the US Circuit Court and continued his belief in an American system, championing many Whig and later Republican ideals. His victories through political thought and the Civil War laid much of America's groundwork of federalism.